Hotchkiss, Colorado – Wickenburg, Arizona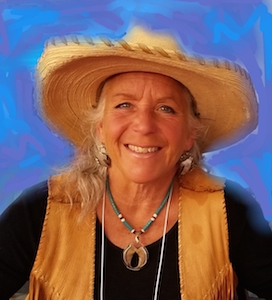 Janet LeRoy is a Colorado native and has always loved the great outdoors and all animals. She has always been artistic, working with a number of different art forms from leather carving to flower arranging.
  Janet's feather art career began around 1992 and through trial and error, she has perfected her art not only teaching herself how to paint and preserve feathers but also how to hand carve her matting and custom frame her work with the help of her husband, Steve.
  She has been selling her work at art shows all over the US for nearly thirty years. Some of her clients include celebrities, politicians, and millionaires and her work is now hanging in several different countries, including Japan, England, Canada, Australia, South Africa, and more.
  Janet has won numerous awards and ribbons for her work throughout the years and makes donations to various animal welfare and preservation groups whenever possible.
For many years, Janet raised many of her own birds including Royal Palm turkeys, chickens, guinea fowl, and a Scarlet Macaw.
  Steve and Janet spend the summer months in Hotchkiss, Colorado where Steve works as a flyfishing and river guide and Janet travels to art shows in Colorado, Wyoming and Montana then they travel to Wickenburg, Arizona in the winter months for more art shows, work, and recreation.